The Daily Mail just posted 12 huge and stunningly horrific photos of the 1960 Park Slope airline collision. It's hard to imagine this post-apocalyptic carnage is on the corner of 7th Avenue and Sterling Place: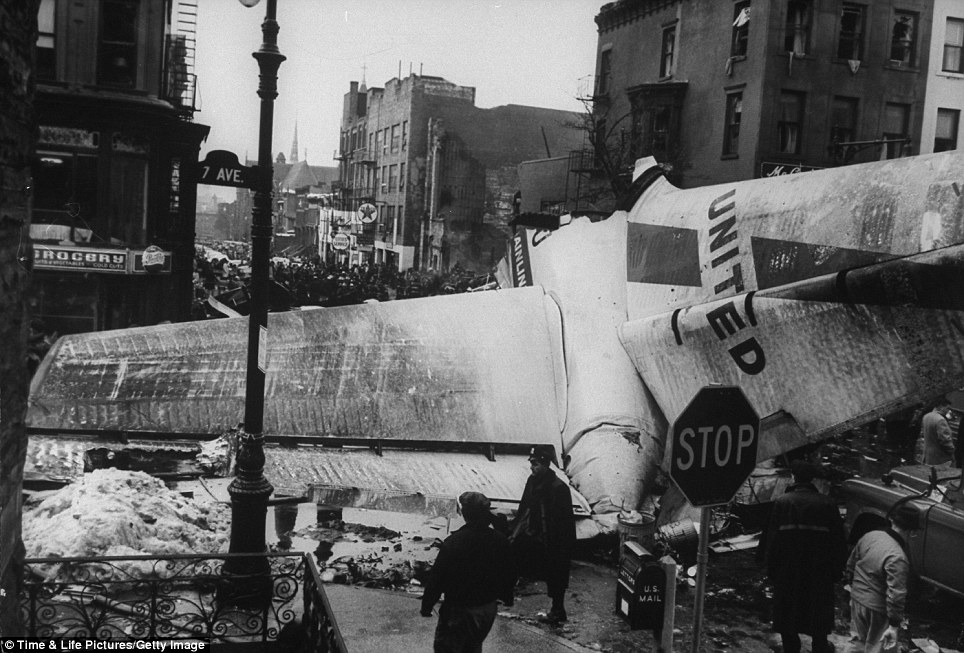 The collision took place on December 16, 1960, about 2 weeks before Christmas, and involved 2 passenger planes (United Airlines Flight 826 and Trans World Airlines Flight 266) as they were descending toward Idlewild and LaGuardia Airport.
The crash set more than 200 homes on fire. About 2,500 firefighters and policemen came to fight the flames and sort out the chaos.
The Douglas DC-8 had 84 people on board and overshot its holding point by some 12 miles and hit the TWA plane, which had 44 people on board. Snow was a factor in the crash, investigators said.
"Residents were horrified to see a passenger jet's plane wing careening down a narrow street," writes Beth Stebner. "There was an explosion, as the plane crashed to the neighborhood, demolishing the Pillar of Fire church as well as several houses. The explosion as well as flying debris blew out many nearby windows."
The DC-8's pilot tried desperately to make a landing at LaGuardia, but crashed on Seventh Avenue and Sterling Place in the heart of Park Slope. "What was moments ago an idyllic Christmas scene had turned into carnage – twisted metal, burned plane pieces, and charred corpses littered the streets," Stebner writes.
The sole survivor was Stephen Baltz, 11, who was flying alone. He died 27 hours later, but not before telling doctors he looked out the window of the plane and saw snow falling on the city:
"It looked like a picture out of a fairy book," he said. "It was a beautiful sight."
Read more: http://www.dailymail.co.uk/news/article-2086028/Photos-1960-Brooklyn-airline-crash-sparked-new-era-black-boxes.html#ixzz1jZCYrork