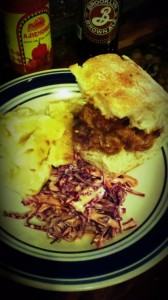 Park Slope's only full-fledged barbecue restaurant, Fort Reno Provisions, could open as soon as this coming weekend, reports suggest. Pictured is a test run of Fort Reno's new smoke pit.
Partners in the restaurant are Anthony Laudato, Lia Forman, and Jacques Gautier of Palo Santo. "Anything Gautier touches turns to edible gold," one fan said in a recommendation on the Fort Reno Provisions Facebook page.
Check out their wall photos for another visually delectable test run: Pork spare ribs, bourbon bbq sauce, slow cooked collards, and buttermilk biscuits. And they plan to do cocktails in a big way; check them out at Edible Brooklyn's upcoming cocktail event.
Fort Reno Provisions is located at 669 Union St [map], and their website is: http://fort-reno.us.