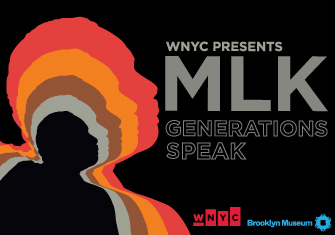 In Brooklyn, Martin Luther King is memorialized at Martin Luther King Jr. Playground in East New York, and Martin Luther King Place in Bed-Stuy. In the summer, at Wingate Field, on the other side of Prospect Park, the long-running Martin Luther King, Jr. Concert Seriesbrings big names like Queen Latifah and Maze featuring Frankie Beverly to the bandshell on Brooklyn Avenue. And this weekend, there are going to be MLK Day events near Park Slope and throughout the borough:
MLK: Generations Speak
(FREE, Sunday, January 17, 2010, 3–5 p.m.at the Brooklyn Museum): co-hosted by WNYC's Brian Lehrer and Celeste Headlee of
The Takeaway
. Panelists include: Dr. Roscoe C. Brown (former Tuskegee Airman); Majora Carter of Sustainable South Bronx; Eddie Glaude, Ph.D.; Major Owens; and Patricia J. Williams
.
26th Annual Brooklyn Tribute to Dr. Martin Luther King, Jr.
(FREE, Mon, Jan 16 at 10:30am at BAM). This is New York City's largest public celebration honoring Dr. Martin Luther King, Jr. Keynote speaker is Dennis M. Walcott, chancellor of the New York City Department of Education. Musical performances by Toshi Reagon and BIGLovely and The Institutional Radio Choir C.O.G.I.C. of Brooklyn.
Following the event in the Opera House, BAM Rose Cinemas presents a FREE screening of the film
The Black Power Mixtape 1967-1975.
Shot by Swedish journalists who came to the US to chronicle urban unrest and revolution, this film has never-before-seen interviews with many leaders of the Black Power Movement.
MLK Day of Service, Community Cleanup in Crown Heights
by the Crow Hilll Community Association (CHCA)
.
Come to the Crow Hill Community Garden (730 Franklin between Park & Sterling) on MLK Day Observed (Monday January 16th, 10-12 pm). Bring gloves, outdoor brooms/dustpans, garbage bags, etc. Bring your family, friends & neighbors, and tell any HS students who might need to do community service.
Also, check out these comprehensive guides to MLK Day events in Brooklyn: