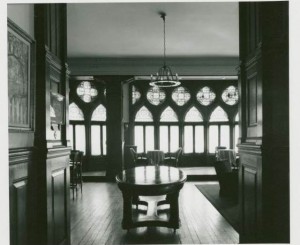 Gothamist just posted a series of great photos of The Montauk Club courtesy of New York Public Library's old image archive. Park Slope's private social club founded in 1889 by Charles Pratt, Richard Schermerhorn, and Edwin C. Litchfield. In its heyday, it hosted prominent politicians including John F. Kennedy and Dwight D. Eisenhower. Today, it's come back to life as a low-key and relatively non-exclusive club (I can attest, since they actually let me into the place for an actual function once).
Today, it's focused on recruiting unmarried and "good looking" thirtysomethings, according to its website: "But our older members are holding their own and the mix of ages and the diversity of points of view make for engaging conversation." Membership is only $350 a year.
Who's a member of Montauk? Will there be a Super Bowl party, and is it too late to get in the betting pool?