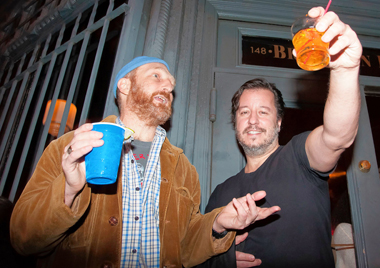 Photo Source: Brooklyn Daily
Many of the shows with a Brooklyn setting are actually filmed on a California sound stage. HBO's "Bored to Death" was filmed in the neighborhood and locals could tell. "Brooklyn looks more like Brooklyn than any West Coat soundstage does," says Matt Flegnheimer from NYTimes.com. The show was filmed throughout the borough at places like Fort Greene, Brighton Beach and Park Slope. You can get a list of shooting locations on the show's website. "Bored to Death" show was on air for 3 seasons before getting the ax at the end of December 2011.
The show's creator, Jonathan Ames, invited fans to a Boerum Hill bar to celebrate the show while it was on air and mourn the fact that now it's not. While fans loved that fact that Ames nailed the neighborhood culture they also "did not want the show's local popularity to cause an influx of non-Brooklynites to the area" reported NYTimes.com.