Jean-Michel Basquiat was born in Brooklyn Hospital on December 20, 1960, and lived in Park Slope. In his teenage years, he attained notoriety as a graffiti artist; his work, signed SAMO, was humorous and poetic. And though some modern-day Park Slope graffiti writers say Basquiat Lives, and some blogs refer to him as a "Park Slope native," the artist actually had very little connection to Park Slope, it turns out.
A lot has been made about Basquiat running away from Park Slope at age 15 (not 17), but apparently, that was a very short stint of sleeping on park benches in Washington Square Park; after being arrested, Basquiat was returned to his father in about a week. By another account, after he ran away from home, he stayed a few hours at a local radio station until the employees called his father. Moreover, it's not really clear whether he ran away from Park Slope, since this timeline says the family actually moved to East Flatbush (East 35th Street) in 1966, at which time, Jean-Michel would have been only 6 years old, max.
In 10th grade, Basquiat dropped out of Edward R. Murrow High School in Midwood. His father kicked him out and he stayed with friends elsewhere in Brooklyn.
In the picture, you see his father, Gerard Basquiat, who was born in Port-au-Prince, Haiti. His mother, Matilde Andradas, was born in Brooklyn to Puerto Rican parents. And this mod-looking photo shows the Basquiats at home at 553 Pacific St., which according to the NYPL Digital Gallery, is Park Slope: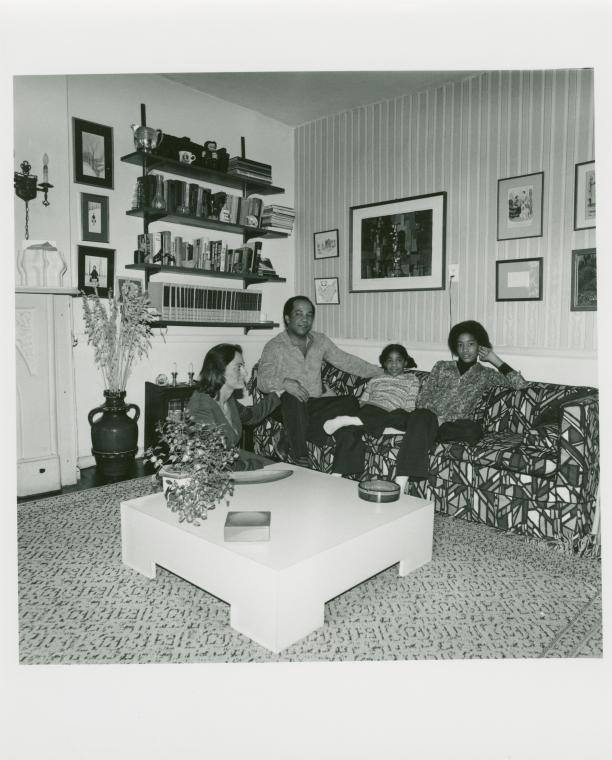 Source NYPL Digital Gallery
So that's between 3rd and 4th Aves, right around the corner from Target – whether that counts as Park Slope may be open to discussion.
Jean-Michel Basquiat died on Friday, August 12, 1988 in his loft on Great Jones Street. He was 27 and his autopsy report listed cause of death as "acute mixed drug intoxication (opiates – cocaine)." But after all that, it turns out that his body rests much closer to Park Slope — Basquiat is buried in Greenwood Cemetery:

Photo: Brooklyn Daily