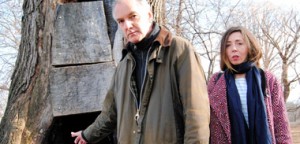 Anne-Katrin Titze writes in:
The wildlife habitat of Prospect Park is treated as if it were an abandoned lot –

Prospect Park Lake is used as a garbage dump by the Alliance/Parks and the lakeside as a sewer.
Everything left uncollected ends up in the lake, polluting further the already filthy, debris littered watercourse.

Alliance/Parks waits for rain, wind, snow, and the overflow of the lake to wash away garbage and human waste from the lakeside, into the lake.
Anne-Katrin told the Brooklyn Papers that these "tree people" have been using a dozen or more trunks and branches (on the east side of the lake, near the Tennis Center) for more than a month. They are shielding themselves and their things with sticks, cardboard, and plastic. She claims they're leaving "junk in the trunks" and dirtying up the lake by using it for washing and cooking.
Read more about Tree houses: Vagrants take residence in Prospect Park trees (Brooklyn Papers)