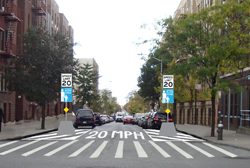 Following all the buzz around Prospect Heights potentially becoming one of Brooklyn's first "Slow Zones," Park Slope may now trying to get in on the action, too.
Is 20 (mph) Plenty for Park Slope? That's the question the Park Slope Civic Council is going to debate on Saturday, Jan. 21, 11:45 a.m at Congregation Beth Elohim, 274 Garfield Place (at Eighth Avenue).
The New York City Department of Transportation is accepting applications to establish reduced speed zones (i.e., cut it from 30 mph to 20 mph and add some special safety measures such as striping, speed bumps, and gateway signs announcing the presence of a Slow Zone).
Problem is, this is a self-enforcing, reduced-speed area, so some people in Prospect Heights are skeptical that a "slow zone" is little more than a band-aid that cops and speeders will ignore. Moreover, changing velocity on such a grand scale might not be "wasteful" and hard on suspensions and chassis, and decrease the mean time between failures of these and associated components. The truly flagrant violators will likely sail over speed bumps as if they did not exist.
Are there other, better traffic calming solutions, such as zig-zags, chicanes, and speed cameras? Or is a slow zone the perfect thing for Park Slope? Come to the meeting Saturday and let your voice be heard.